| | |
| --- | --- |
| CFP closed at | June 04, 2023 23:59 UTC |
| | (Local) |
On October 6-7 2023 Thailand's third RubyConf will take place and we need your help to make it a success!
The event will feature 18 talks in a single-track format. No matter if you're a first-time speaker or a seasoned conference veteran, we invite you to join us in Bangkok for two days of presentations, fun, and community. Talks may be geared toward non-expert audiences or focus on experienced developers, all levels are welcome. We are flexible regarding topics, so presentations don't have to be strictly about Ruby, we'll also consider submissions related to Elixir, Crystal, Opal, and similar topics, as well as software engineering practices and the human side of technology.
There are a total of 18 available speaking slots, 2 of which are reserved for our keynote speakers. This leaves 16 for you, so blow us away with your ideas :-) Here are some topics we are interested in:
Ruby, the heart of our community - current and upcoming language features, as well as interesting libraries
Frameworks - Rails, Hanami, Sinatra, and friends
Ops - tools that keep our applications running, e.g. Docker, Kubernetes as well as tools that are written or configured in Ruby, such as Vagrant, Chef, or Puppet
Related/inspired languages - Opal, Crystal, Elixir, JS
The human side of software - physical & mental health, community building, etc.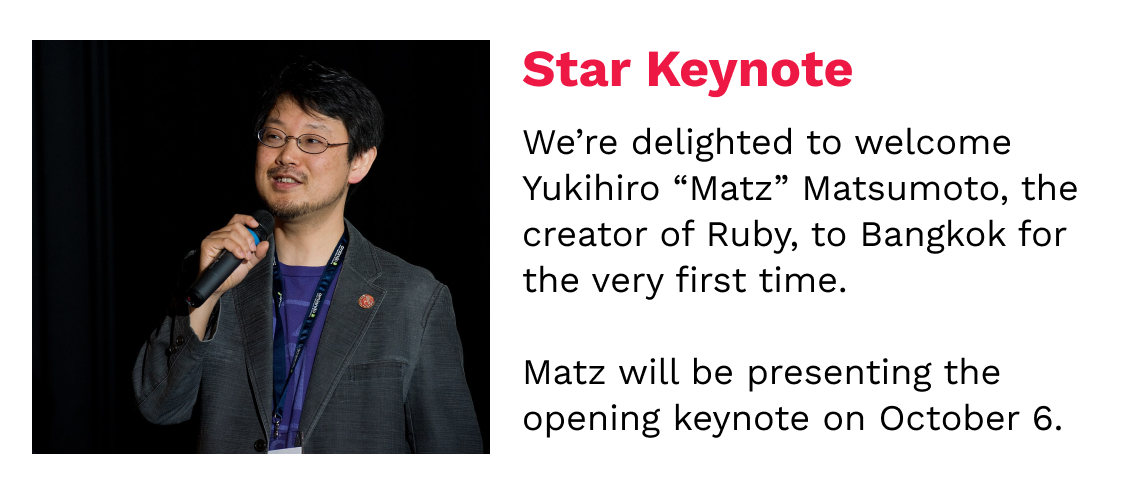 Session format
We have two talk lengths available, 30 minutes (standard) or 20 minutes (short). Please chose whatever you feel more comfortable with. Keep in mind that we will not be doing Q&A sessions at the end of talks this year. If you want to have a co-presenter that's fine, but please only submit once and leave a comment in your subscription. Most of your presentation should be about the topic of your talk. It's ok to have 1-2 slides about yourself and your company but presentations should not feel like ads.
Speaker benefits
Free admission to the conference (if you already have purchased a ticket and are accepted to speak, we'll issue a refund; don't wait with purchasing a ticket when sales start or you may miss out!).
In case your company covers your travel expenses, we'll list them as "speaker sponsor" on our website.
The opportunity to be paired with a speaker mentor to help you prepare your talk (content, slides, dry runs, whatever you need). This isn't mandatory but is recommended for new speakers.
Invitation to our exclusive speaker dinner!
Speaker testimonials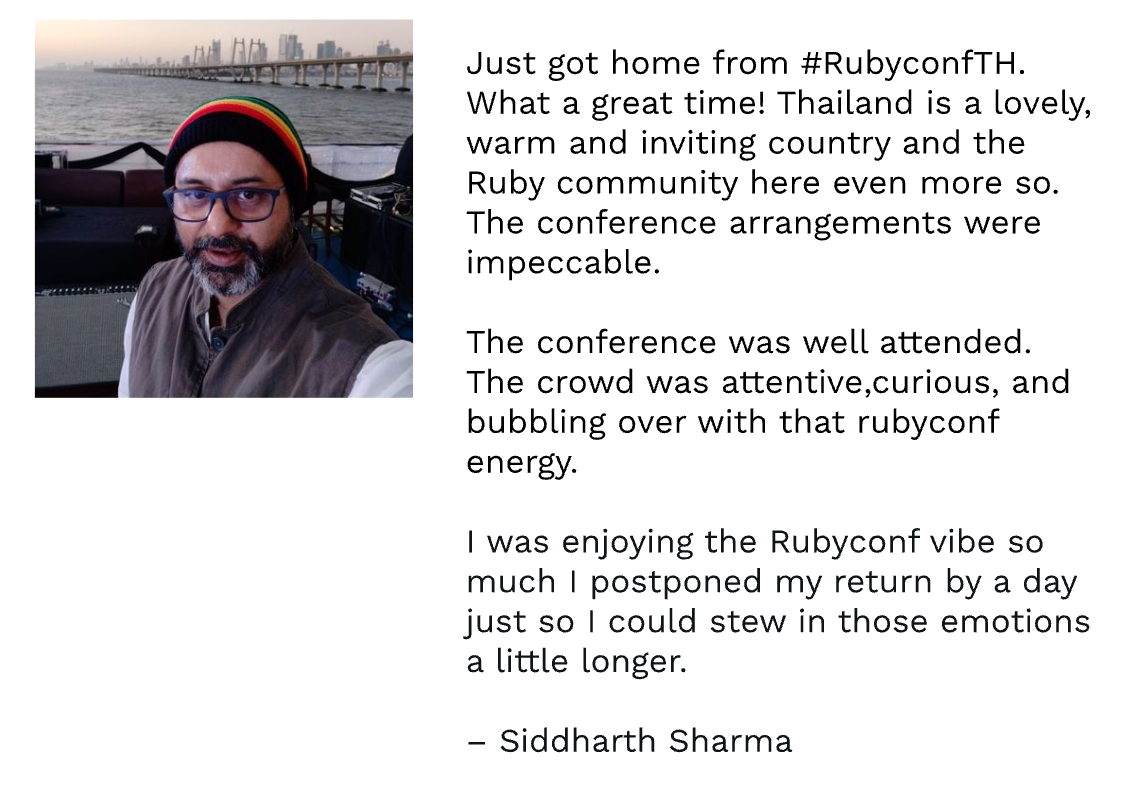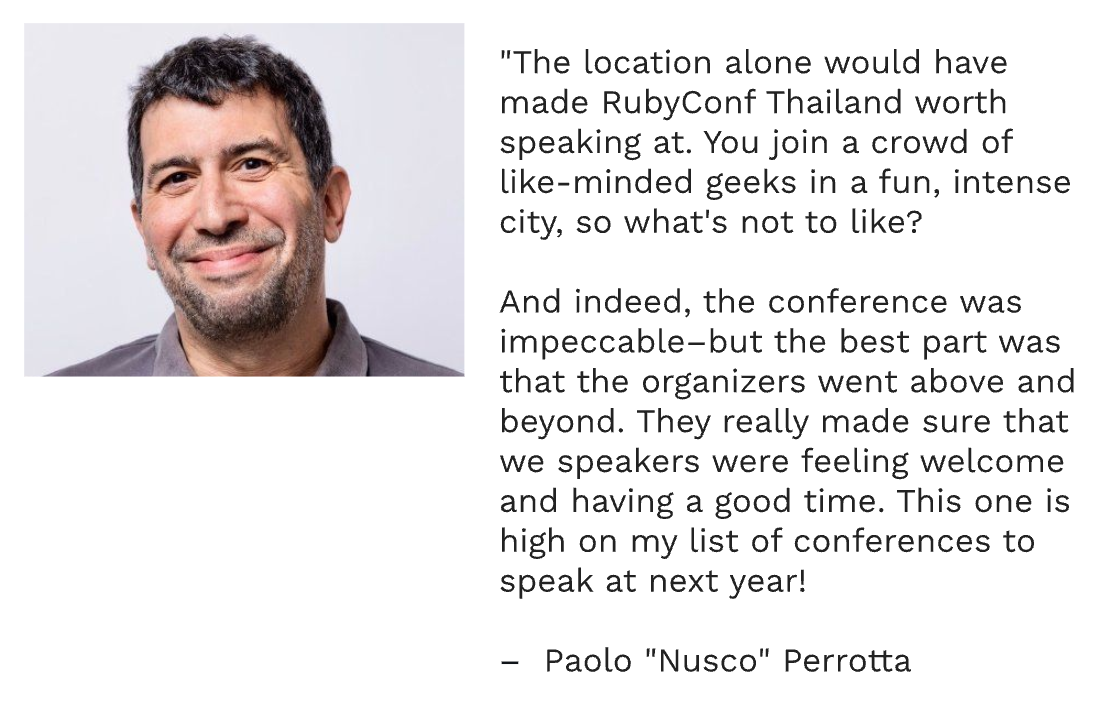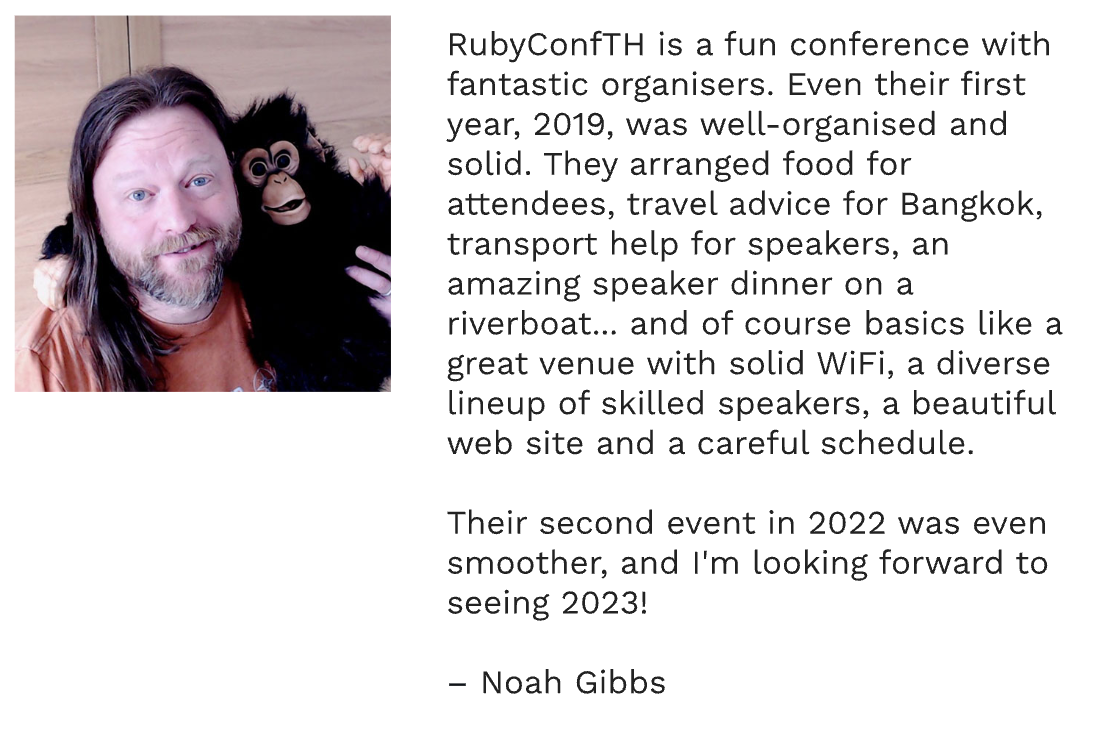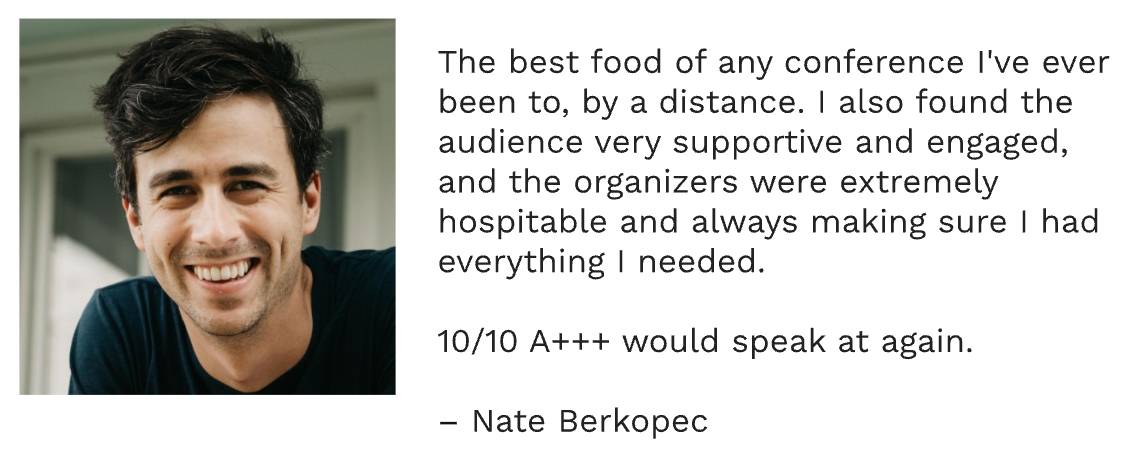 Selection process
A group of volunteers will review all proposals and select the presentations for the event. If our reviewers have any questions about your submission they will contact you through Papercall, please try to answer in a timely manner and update your proposal with clarifications if needed. This will increase your chances of being accepted. Your replies will be anonymous.
After an internal discussion and possibly more questions for you through Papercall, we make a final selection and reach out to accepted speakers. After that, we send rejections to the rest. There may be some overlap: if you have submitted more than one proposal and are selected, your rejected proposals will still receive the rejection email.
Please don't take it personally if your talk gets rejected, but feel free to request feedback on the reasons.